ELOPEMENT PHOTOGRAPHY PRICING
Eloping has become one of the most popular ways couples in Washington, DC, Maryland and Virginia to celebrate their commitment to one another. Whether you're on a mountain top in Shenandoah, at the Eastern Shore, or on West Virginia fire tower, my elopement photography is a meaningful way to memorialize your love.
Elopement photography is for groups of up to 30 people.
With personal experience at the Courthouse and an avid hiker, I used these life experiences to title my elopement packages.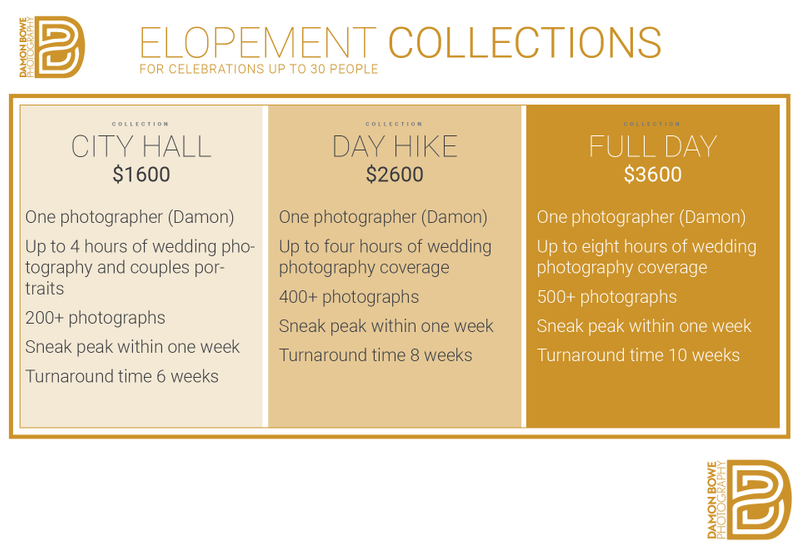 ELOPEMENT PHOTOGRAPHY INCLUDES
planning meetings
about 70 images per hour
selection and editing of photographs
sneak peak within a week of your elopement
online password protected gallery without watermarks
full resolution photographs, for printing
social media size photographs, for sharing
150 mile complimentary travel from Navy Yard, Washington, DC
complimentary hiking to remote locations
DESTINATION ELOPEMENT PHOTOGRAPHY COVERAGE CONSIDERATIONS
surcharge for travel to the location of your elopement if over 150 miles from Navy Yard, Washington, DC
parking at airport or train station
flight or train costs
hotel accommodation
travel from airport or train station to wedding location