WATERFALLS
If you enjoy waterfalls, hiking, and don't mind getting wet with a partner then this is for you.
I am offering a special discount on waterfall portraits on an application basis. This discount is offered because I want to shoot waterfalls and I'm looking for people who share this interest. I have already scouted each location and have a rough idea of how I want to shoot them, depending on the lighting conditions.
In case you are wondering what a waterfall photoshoot might look like, HERE is an example.
WHO SHOULD APPLY
Couples who are into hiking, waterfalls, getting completely soaked, wearing cool attire over a bathing suit--basically anyone who is willing to be a couple and get soaking wet on camera. Let's face it, the only person who wants to avoid bad photos more than you is me!
I'm looking for couples for these photoshoots because I want to photograph the warmth of connection. I love the passion of a couple. And if you are a family who is into getting wet in a waterfall together, then that's great, too.
It's possible that some LGBTQ+ couples might wonder if this applies to them. If you are an LGBTQ+ couple or family, YES I would love to photograph you. I don't care how you identify as long as you are showing passion in front of the camera. Tell me your pronouns and anything else that might make you comfortable and I will do my best to get you the most meaningful portraits you have taken with a waterfall.
Also, I think this is obvious but you must be willing to sign a model release so that Ican use these photos on social media and my website, with or without naming you as the people in the images.
WATERFALL OPTIONS
KILGORE FALLS, FALLING BRANCH, ROCKS STATE PARK
The best waterfall in the DC area to shoot at is Kilgore Falls. This waterfall is a very short and easy hike from a parking area. The waterfall is very nice, a great place to hang out, and requires an early morning both to get to the location, setup and take photos.
In warmer months Kilgore requires a permit. It is extremely difficult to see this beautiful waterfall without a permit because there is no parking for miles around it. I actually tried to find alternative parking and was not successful, so the permit is a requirement. No permit is required on week days.
Kilgore Falls can be photographed in the winter as a frozen waterfall or in the spring, summer, or fall as a flowing fall in which you will definitely get very, very wet.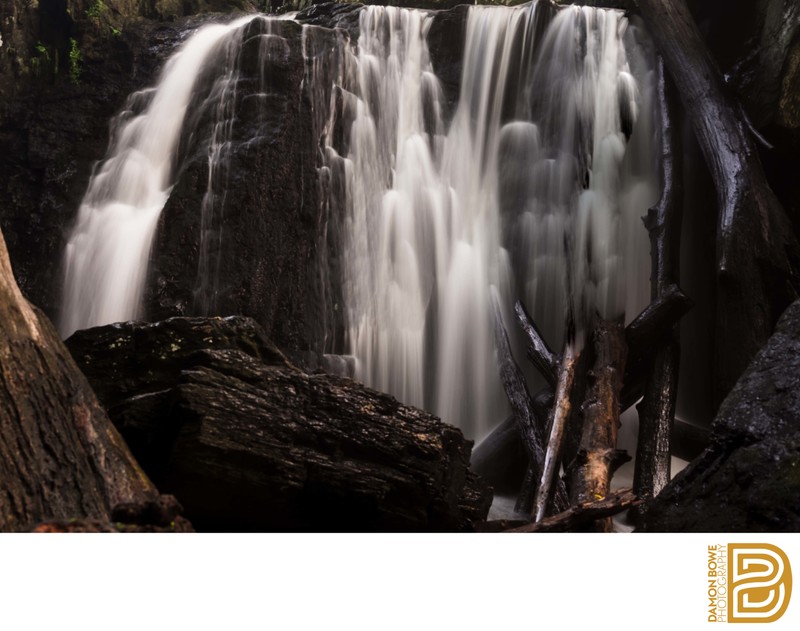 GREAT FALLS
Being so close to DC, I would have thought that someone would have hired me to shoot Great Falls by now, but it just hasn't happened. I want to do it, so I'm offering it at a discount.
On the Virginia side there is a rock scramble that offers an incredible view of the falls. This is a hard scramble that requires two hands to grab hold of rocks. The area is slippery.
On the Maryland side there is a beautiful pool of water near Mary's Wall. In low wind conditions, this pool of water creates a stunning reflection.
Whether in Great Falls Park on the Virginia side or the Cabin John
ATTIRE
I think that the juxtaposition of being dressed up, even black tie, is really nice against nature.
The more dressy your attire the better. Guys don't need a tie, but it's better if you are willing to go all out and just get your entire outfit wet. At least wear a preppy shirt and shorts.
For women, I prefer a dress or a pant suit. Something really flowy is nice, something that you might wear at the country club. We can grab an old dress of ebay or something if your closet doesn't already have options.
WATERFALL PORTRAITS ALWAYS INCLUDES
planning meetings
selection and editing of photographs
about 75-200 photographs
delivery of photos in a password protected gallery
full resolution photograph files, for printing
social media optimized resolution photograph files, for sharing
link to high end print shops for easy printing and delivery of prints
DISCOUNTED RATE
$300 flat fee
This is about a 70% discount off my regular rate including waiving my travel fee.