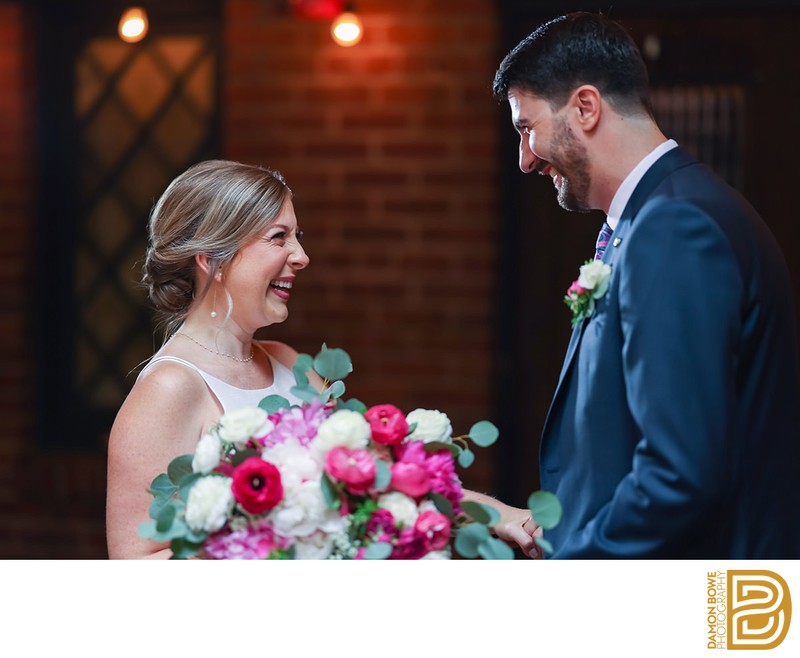 The decision to do a First Look is a personal one and there are pros and cons to consider in planning whether to include it in your Wedding Day timeline. It is important to know whether you are doing a First Look because it greatly affects how the rest of the day will be scheduled.
A First Look is a great way to set the timing for your wedding, and that affects both your emotions as well as the timeline of the event, vendor organization, and so on.
The First Look is an emotional moment that you can share privately away from the ceremony and guests--it might be the only moment you have privacy during the entire day. It's a moment to get settled and centered. And by creating this emotional space, it can allow you to enjoy the intimate moments of the rest of your day and be fully present with each other and your guests.
Here are a few pros and cons about including a First Look. Again, this is a personal decision and these ideas may not apply to you, but they are worth your consideration.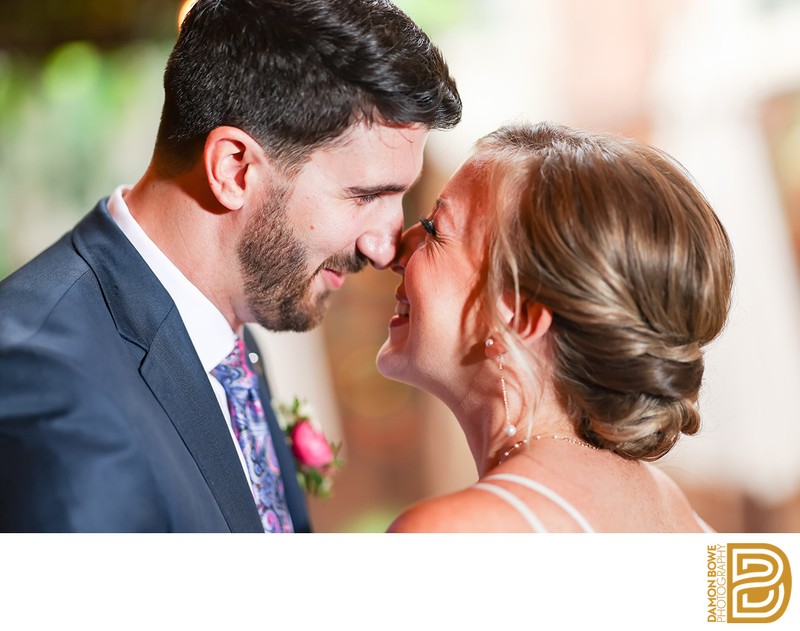 PROS
This is your time to say to each other, "We're doing this! It's really happening!" It's a truly special moment to share with each other, reflect, and enjoy.
A First Look gives you time to enjoy an intimate moment away from all the other guests both during the First Look itself, and possibly later on during your wedding day by helping to create a more evenly spaced timeline for your event. The First Look really sets the tone for the rest of the day's timeline.
A First Look can allow you to move portraits of the wedding party to before the ceremony, creating more time later in the day. To accomplish this, use the First Look as a moment to group the wedding party for photos before the wedding ceremony. If the wedding party is large, getting photos out of the way early can take the pressure off those photos after your ceremony. This has a great benefit to you after the ceremony because it affords you more time for family portraits--especially important if you have a large family or want dramatic family portraits. It might also give you, the couple, a little extra time together after your wedding ceremony to share in the special time and mentally prepare for family portraits.
In case either the Partner is shy in front of a crowd, or in front of cameras, or just in the emotional moment of this big occasion in your life, the First Look can allow you a moment away from your guests to get you settled and centered. It allows you a brief time to relax together and get ready for the rest of the day's events.
The First Look allows you to get out any emotions privately so that the ceremony can be easier on you, not have running makeup, not have as many pauses due to flowing emotions. If either of you is nervous in front of your guests, it gives you a chance to get that out of your system and get comfortable.
In winter time when days are shorter, a First Look gives you more photos and video with natural light. Photographs in natural light are highly desirable so the more of them you have, the better. It can also give you more time for family portraits in natural light.
The First Look guarantees that you receive a few more photographs of the betrothed couple together. In every instance the First Look will provide more photographs for your gallery, and these are intimate photos with just the two of you.
Most vendors prefer a First Look because it creates a more cohesive timeline for your Wedding Day that allows them to be successful in supporting you.
CONS
The First Look timeline is too difficult for a wedding taking place earlier in the day. Usually a First Look takes place around 2-3 hours before your ceremony. For an early ceremony, it might not be possible to arrange a First Look due to how early it is during the day.
The First Look can feel too posed and contrived. Other than family portraits, the First Look is one of the most contrived moments of your wedding day timeline, but to me as photographer this is also a Pro because it gets an undeniably awkward moment out of the way. If the couple is apprehensive about photos, doing this contrived First Look moment can go a long way to feeling comfortable. In my experience, most couples react with something like, "Wow, that was more emotional than we thought it would be; and if that contrived moment is the worst we'll get, this is going to be an awesome day!" But again, it's not for everyone.
A Groom may feel pressured to have a dramatic reaction to the First Look. Even though it's just you and your photographer, the Groom can feel pressured by the situation and may have trouble emoting on the spot, feeling like more of an actor than a participant, giving him feelings of guilt and apprehension at disappointing his Partner. However, this can be considered a Pro if a camera-shy groom can use this potentially awkward moment to get out jitters before you walk down the aisle and get in front of everyone at your wedding.
A Groom may prefer to have the initial viewing of their Partner walking the down the aisle, believing that all the emotion should be in the ceremony, itself. This decision is a personal one that should be considered after reflection, as the Partner walking down the aisle is likely to be emotional regardless of whether you do a First Look. Some Grooms may want to include all that emotion into that one moment of the walk down the aisle, confining all the emotional pressure to that moment in time.
Even though there are many benefits to a First Look, many couples forego it. The decision to do a First Look is purely a personal one. This guide is intended to provide considerations that can help you decide on whether you would like a First Look or not, so that you can finalize your Wedding Day timeline.